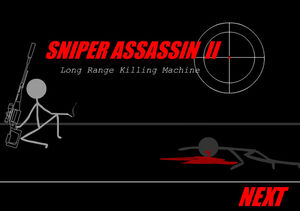 Welcome to the Wiki
Edit
Sniper Assassin Wiki is a collaborative website about Sniper Assassin that anyone can edit!
Sniper Assassin
Edit
Sniper Assassin is a wonderful game with drama that actually lets you connect with the main protagonist.
The story of the game is about Shawn working with an organization that is planning to take down a drug syndicate, the FFG Corp. Shawn is assigned tasks to do to attempt to capture the leader, Mr Johnson. However, things turn for the worst as one day Shawn returns home to see his wife brutally murdered with a note on the door saying 'a gift. Mr J'. The depressed assassin retired from the group and went nomad for a while. Then he began to do 'Clean-up' contracts for people in exchange for money.
The main protaganist is Shawn and is the only playable character.
Latest activity
Edit
Sniper Assassin Zero, the prequel to the online series, has been released for mobile and is available on iTunes and in Google Play.
https://play.google.com/store/apps/details?id=air.com.gonzogames.sniperassassinzero.SniperAssassinZero0.A1
https://itunes.apple.com/us/app/sniper-assassin-zero/id774798920?ls=1&mt=8